Rectal Injuries
exp date isn't null, but text field is
Rectal Injury
Requires a high index of suspicion.
Missed rectal injuries carry a mortality rate of up to 50%.
Penetrating Rectal Injury
Maintain a high index of suspicion with any penetrating injuries of the lower abdomen, pelvis, perineum, or upper thigh.
Blunt Rectal Injury
Should be suspected in any patient with pelvic fracture and/or perineal injury.
Often complex, with high morbidity and mortality rates, due to frequent association with concomitant injuries to the pelvic vasculature, bladder, and urethra.
Elements of Diagnosis
Digital Rectal Exam
Rigid proctosigmoidoscopy (may miss occult injuries; not sufficient by itself to exclude injury)
CT abdomen/pelvis with rectal contrast
+/- Gastrografin enema
Principles of Management
Rectal injuries above the peritoneal reflection should be treated like colon injuries. The vast majority should be repaired primarily.

Several prospective RCTs have shown either no difference or lower complication rates with primary repair compared to colostomy formation.

Damage control operations should consist in resection of damaged bowel with stapling off of ends, without colostomy formation. Colostomy formation unnecessarily prolongs the operation, and the presence of a colostomy in the setting of abdominal compartment syndrome can be disastrous (may retract into the abdomen).
Low rectal injuries should be repaired transanally when possible.
Aggressive attempts to repair extraperitoneal rectal injuries, while risking the exposure of uncontaminated pararectal planes through excessive mobilization, should be discouraged.
Debate exists in the literature over the need for fecal diversion with primary repair. Significant delay in repair (>24 hours from the time of injury) and perioperative shock both increase the risk of leak, and should prompt a consideration of fecal diversion.
The literature suggests that presacral drainage may decrease the rate of septic complications from rectal injury, particularly in the case of injuries that communicate with and contaminate presacral and pararectal soft tissues. Dissecting uncontaminated planes to place presacral drains, however, may not be prudent or warranted.
The literature is inconclusive on the issue of distal rectal washout.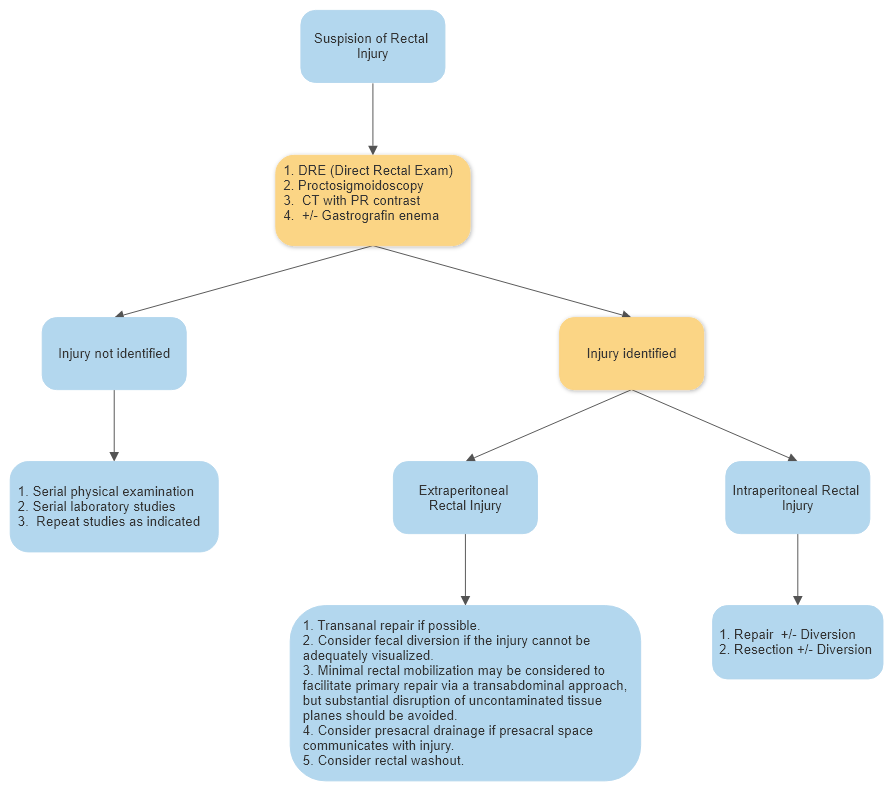 If reusing this content please use the following information to provide credit to the content authors:  
Title: Rectal Injuries
Author:  Michigan Medicine
Source: The URL where the image is hosted.
License: "CC BY-NC 4.0"
Rectal Injuries,  Michigan Medicine, Dept of Surgery,  "CC BY-NC 4.0"