Blunt Cerebrovascular Injuries (BCVI)
exp date isn't null, but text field is
BCVI: Collective incidence approximately 1% of blunt trauma admissions.
Trauma patients with any of the following signs/symptoms should be considered to have BCVI until proven otherwise:
Arterial hemorrhage from neck, mouth, nose, ears
Large or expanding cervical hematoma
Cervical bruit in patient < 50 years old
Focal or lateralizing neurologic deficit, including hemiparesis
Transient ischemic attack
Horner's syndrome (Oculosympathetic paresis)
Vertebrobasilar insufficiency
Evidence of cerebral infarction on CT or MRI
Neurologic deficit that is incongruous with CT or MRI findings
No published prospective randomized clinical trials in BCVI that have generated class I data.
Recommendations therefore based on observational studies and expert opinion.
Blunt Carotid and Vertebral Injury Grading Scale 
Injury Grade
Description
I
Luminal irregularity or dissection with < 25% luminal narrowing
II
Dissection or intramural hematoma with 

≥ 25% luminal narrowing, intraluminal thrombus, or raised intimal flap

III
Pseudoaneurysm
IV
Occlusion
V
Transection with free extravasation
https://www.westerntrauma.org/wp-content/uploads/2020/08/Screening-for-and-Treatment-of-Blunt-Cerebrovascular-Injuries-Algorithm_FINAL.svg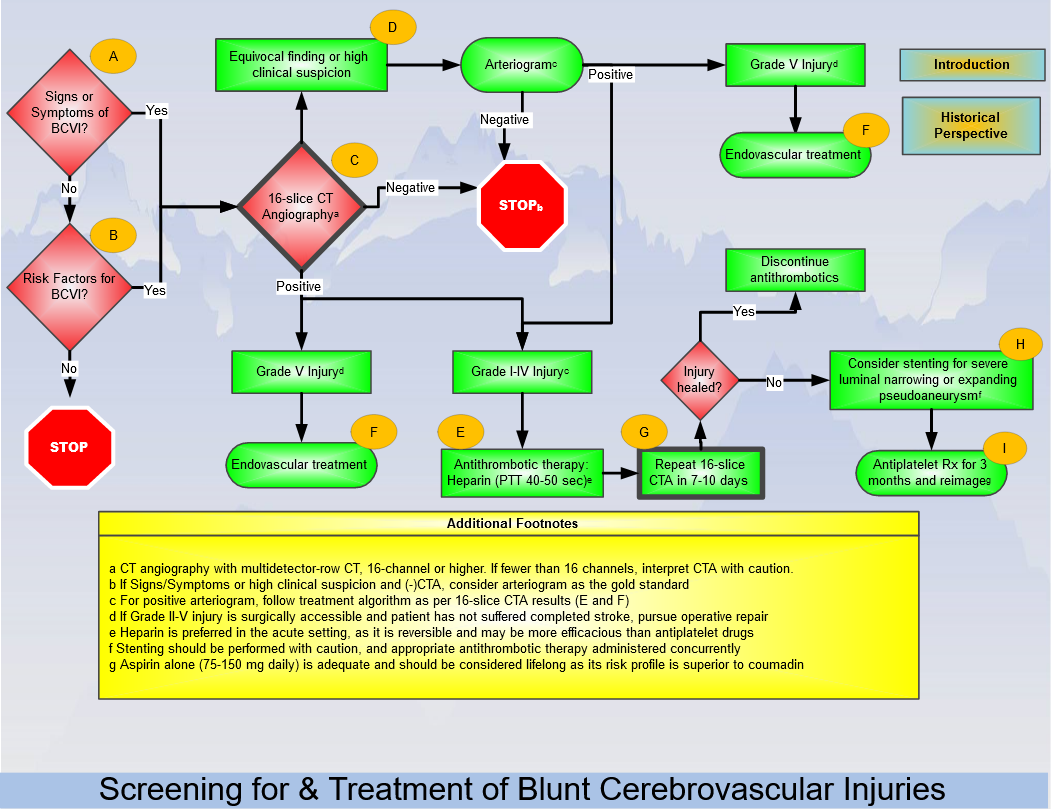 If reusing this content please use the following information to provide credit to the content authors:  
Title: Blunt Cerebrovascular Injuries (BCVI)
Author:  Michigan Medicine
Source: The URL where the image is hosted.
License: "CC BY-NC 4.0"
Blunt Cerebrovascular Injuries (BCVI),  Michigan Medicine, Dept of Surgery,  "CC BY-NC 4.0"