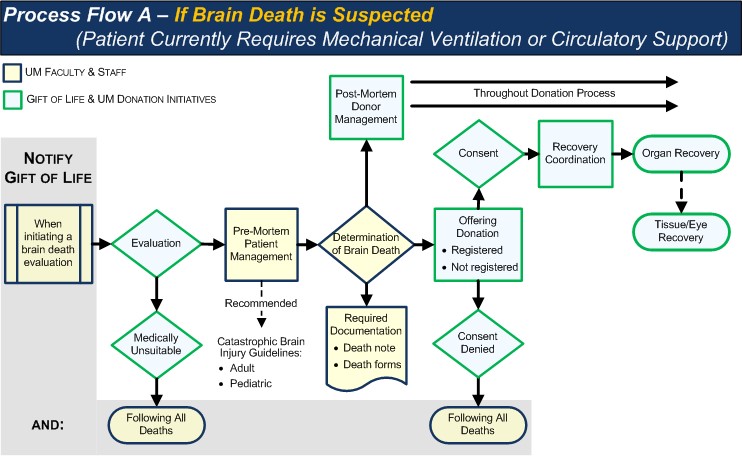 Process Flow A - Quick Reference Guidelines for Faculty & Staff
Should notify Gift of Life of a potential organ donor by calling XX if brain death is suspected.
Must notify Gift of Life of potential organ donors by calling XX within 60 minutes of the patient's meeting the notification trigger.
Notify Gift of Life if family initiates discussion regarding withdrawal of support or their donation options.
Gift of Life will determine if the patient had joined the Michigan Donor Registry.
Gift of Life will establish the medical suitability of all potential donors, in collaboration with UM Donation Initiatives.
Support may not be withheld or withdrawn prior to providing adequate time for Gift of Life to complete the evaluation and donation process.
Only Gift of Life and UM Donation Initiatives may offer the option of organ donation to potential donors/families.
All potential organ donors must be maintained while necessary testing and placement of donated organs takes place.
Gift of Life can be contacted at any time if you or a potential donor's family has any questions.